We are very happy and proud to announce that on February 24, 2014 Children's Craniofacial Association celebrated its 25th year of serving individuals and families affected by facial differences.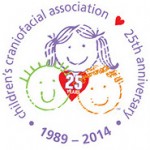 CCA was founded in 1989 to address unmet needs of families across the United States who were affected by craniofacial differences. The first thing we did was obtain a toll-free number so our families could call and connect with us since long distance calls were so expensive. The internet wasn't mainstream back then, so families only found us by word of mouth, by the few craniofacial healthcare providers who knew about us, or through the few occasions we were able to get press.
In June 1990 the first Cher's Family Retreat was held in Orlando, Florida so families could come together to share resources and support. CCA provided families with a list of the International Society of Craniofacial Surgeons so they could reach quality care. The financial assistance program was started to help families with food travel and lodging when it was necessary to travel to the relatively few centers in the United States. And, CCA printed the first two syndrome booklets, as well as the first CCA newsletter in 1993.
In 1991 the organization's name was changed to Children's Craniofacial Association to reflect the need to bring families aboard while their children are young so they can fully benefit from our programs and services during each stage of their lives.
Now 25 years later, we've come full circle. We've raised a whole generation of CCA Kids, many of whom continue to attend the retreat every year, and those young adults are now role models and mentors for the younger ones.
And 25 years later, although technology has changed drastically, many fundamental needs for families affected by craniofacial conditions remain the same, and CCA continues to provide for those needs. Cher is still CCA's Spokesperson, and in June 2014 we will hold our 24th Annual Cher's Family Retreat that now starts with a one-day Craniofacial Symposium. We now have 14 syndrome booklets in publication, have added 14 one-page overviews that describe syndromes and topics related to having a craniofacial condition, and our newsletter has grown from a 4-pager in 1993 with a distribution of a couple thousand, to 24 pages today with a distribution of around 14,000. CCA is still providing a list of craniofacial surgeons who are members of the International Society of Craniofacial Surgeons, albeit a much-expanded list, and we are still providing financial assistance for families who must travel for their care. We have a newly designed website, a blog, and a Facebook page.  We have an extensive networking list, a very active yahoo group, as well as young adults and families who stay connected all year long through Facebook.
As we move into year 26 and beyond, our goal is to bring many more families on board. We started with just a handful in 1989, and today we have over 7,000 families. But there are many families out there to make aware of CCA and what we can do for them.
Though we would prefer it was not necessary for CCA to exist, as long as we are needed we will strive to be there for all the families that need us. All the while, continuing to envision a world where all people are accepted for who they are, not how they look.
Char Smith
CCA Executive Director